Barrel Roll Mugnaini Pizza Oven
Barrel Roll Mugnaini Pizza Oven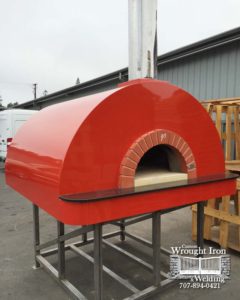 A beautiful Barrel Roll Mugnaini Pizza Oven. As many of you already know Custom Wrought Iron & Welding works closely with Healdsburg's Mugnaini. Pizza ovens built to last need steel that lasts, that's why Mugnaini chooses Custom Wrought Iron & Welding to build the bases and other steel aspects of their wood fired pizza ovens.
Pictured is a barrel roll Mugnaini pizza oven. Custom Wrought Iron & Welding put together the steel surround for this beautiful pizza oven. They also built the base for the oven and other steel aspects.
Mugnaini's pizza ovens can be found throughout Sonoma County and all of Wine Country. They make a great addition to wineries, home patios, and even restaurants. Wood fired pizza ovens are sure to impress friends not just because they're aesthetically pleasing but also because they make great pizza.
On Mugnaini's online store you can also find various different oven tools, fire starters and specialty foods. These wood fired ovens aren't just for pizza. On Mugnaini's website you can find different recipes cooked with the pizza oven including seafood, desserts and wild game recipes.
If you are in the market for a pizza oven give Mugnaini a call at (888) 887-7206.
Like Mugnaini's Pizza ovens?
Get a custom BBQ grill to go with it. At Custom Wrought Iron & Welding we can craft the perfect BBQ girl to fit your space. These BBQs look great next to wood fired ovens and all come with our stamp of authenticity. Learn more about our BBQs here.